Pets Alive is a no-kill animal rescue, located in the foothills of the Catskill Mountains, about 1 1/2 hours from New York City. Our mission is to improve the lives of companion animals everywhere by any means possible, including rescue, adoption, advocacy, collaboration, intervention and education.
---
Help the Dogs win new pet beds!
We need your help to win TWO sets of cozy Chill Pads – that's 20 new beds for our dogs! Thanks to you who nominated us in the last round, we've been selected as a finalist in P.L.A.Y. & the Petfinder Foundation's Warm Bellies Voters' Choice Poll! VOTE DAILY through March 31 at: https://woobox.com/auggx9.
Simply look for our Pets Alive logo and click on "vote". You will be brought to a page where you can click to share with your followers, which we hope you'll do, but that step is not necessary to record your vote. Thanks for your help! #WarmBellies.
---
Harvest of Hope
Saturday, October 24, 2020
The Country Club at Otterkill, 100 Otter Road, Campbell Hall, NY
6:00pm - 10:00pm
Early bird registration through October 9: $75.00 or tables of 10 for $700. Price goes up after that date!
It is an evening of great food, silent auction, raffles, 50/50, Wine Bar, Jewelry Bar, music and dancing! Featuring a new and exciting menu and catering by You're the Boss! Weddings and Events. Dance to the music or hop into the photo booth, both provided by Music Masters DJ Entertainment! And the Sponsor-a-Pet Giving Tree returns! Tickets, sponsorships, Evening Program Journal Ads now available - and we're accepting donations for the raffle and silent auction. For information: http://bit.ly/2020-Harvest-Info.
---
5th Annual Bowl-a-Thon for the Animals!
New date will be announced shortly.
Quinnz Pinz, 13 Railroad Avenue, Middletown, NY
Registration from 12-1pm; Bowling from 1-3pm
Fee: Pre-registration - $18. At the door - $20.
This event, originally scheduled for March 29, is being postponed. Stay tuned for a new date, at which time registration will be opened back up. If you already registered for the March date, stay tuned as more information will be forthcoming. Here's general information about the event: http://bit.ly/2020Bowling.
---
It's Kitten Shower time!
Saturday, May 9, 1:00-4:00pm
Pets Alive, 363 Derby Road, Middletown, NY
We would love for everyone to bring an item for the kittens. Check out our Facebook event for our wishlist and information about this event. Interested in donating a raffle item or being a baker for the Kitten Shower? Please email us at info@petsalive.org by May 1.
---
JEWELRY FUNDRAISER! Shop for a cause!
Check out this great handmade or hand strung jewelry by StephsCraftingBits! Pets Alive gets 20% of the sale proceeds when you mention our name at checkout (or by contacting Stephanie at her Etsy site)! Shop and order here - and enjoy free shipping on most items: https://etsy.me/2rtlt8X
---
Pets Alive is proud to be a Partner for Pets! BISSELL and LostPetUSA.net have teamed up to help organizations like ours raise money, and now you can help too! When you purchase pet products on bissell.com and enter the code ADOPT at checkout, a portion of your purchase will be donated to our organization!

It's simple.

◾ Shop pet products on www.bissell.com
◾ Enter the code ADOPT at checkout
◾ Then select our organization listed as Pets Alive animal sanctuary!
Learn more at www.bissell.com/partnersforpets.

---
Pets Alive introduced the "Senior Canine Tooth Fairy Program in mid-2018, thanks to a recent grant award from The Grey Muzzle Organization! This grant award will be used to provide dental treatments to some of our senior dogs to promote good health and increase their chance at adoption. Stay tuned for updates as the program gets underway! The national nonprofit The Grey Muzzle Organization improves the lives of at-risk senior dogs by providing funding and resources to animal shelters, rescue organizations, sanctuaries, and other nonprofit groups nationwide. For details, please visit www.greymuzzle.org
---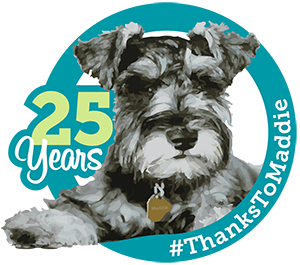 Congratulations to Maddie's Fund, who celebrates 25 years! Maddie's Fund® is a family foundation created in 1994 by Workday® co-founder Dave Duffield and his wife, Cheryl, who have endowed the Foundation with more than $300 million.

Since then, the Foundation has awarded more than $225.7 million in grants toward increased community lifesaving, shelter management leadership, shelter medicine education and foster care across the U.S. Pets Alive has benefited from several recent grants, thanks to Maddie's Fund.

The Duffields named Maddie's Fund after their Miniature Schnauzer Maddie, who always made them laugh and gave them much joy. Maddie was with Dave and Cheryl for ten years and continues to inspire them today. Maddie's Fund is the fulfillment of a promise to an inspirational dog, investing its resources to create a no-kill nation where every dog and cat is guaranteed a healthy home or habitat. #ThanksToMaddie.

Maddie's Fund is a 501c3 organization, EIN 94-3362163.
UPCOMING EVENTS!
Click here to see our on-going events!